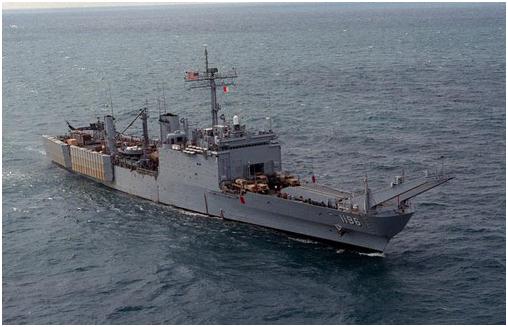 USS HARLAN COUNTY
LST 1196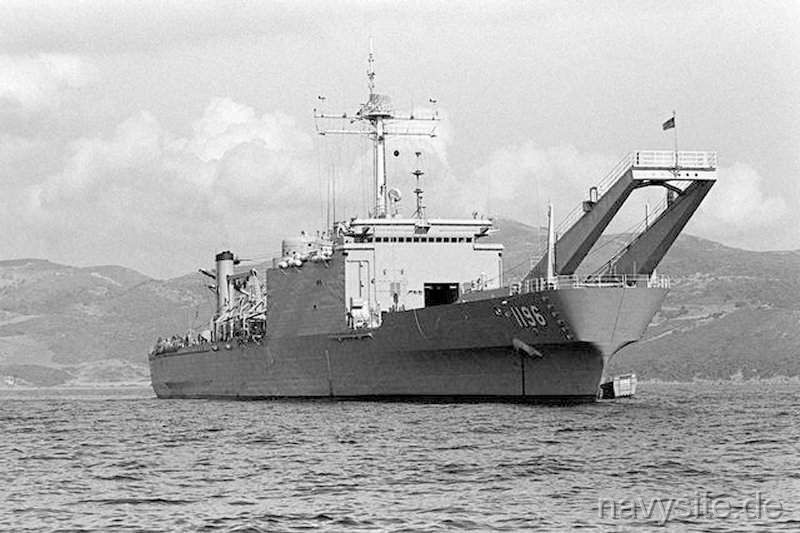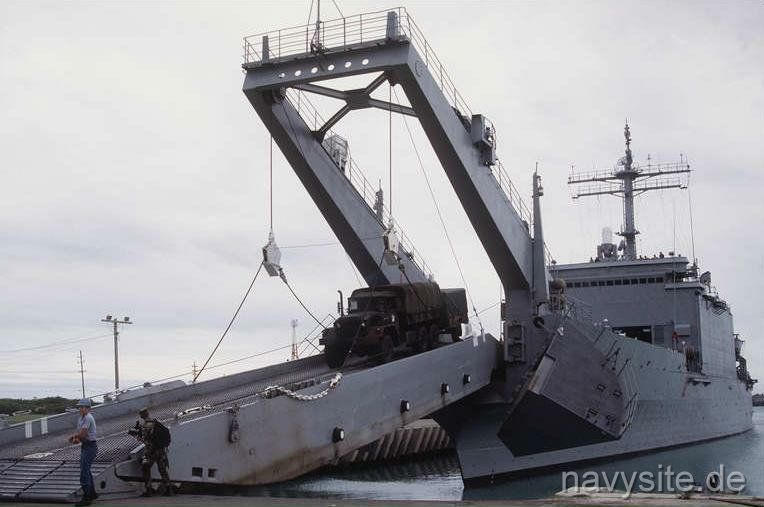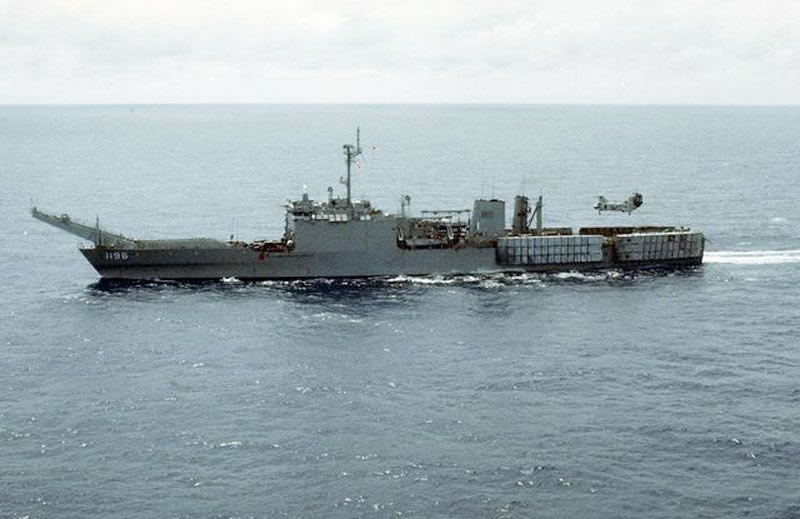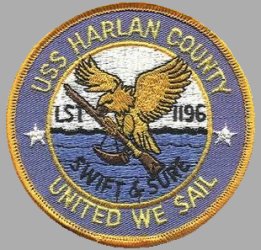 USS HARLAN COUNTY (LST 1196)
BASIC STATISTICAL DATA
Length..................................................................................522 feet

Width (Beam)........................................................................70 feet

Displacement (Full Load)........................................................8300 Tons

Mean Draft (Full Load)............................................................15 Feet

Propulsion.............................................................................Twin controllable pitch screws, powered by six diesel engines

Speed...................................................................................In excess of 20 Knots

Bow Thruster.........................................................................Single controllable pitch screw

Armament.............................................................................Two 3-inch 50-Caliber rapid fire twin mounts

Crew.....................................................................................12 Officers, 208 enlisted men
USS Harlan County, one of the Newport class of LSTs, was designed as a modernized "battle-group" version of the Tank Landing Ships (LSTs) of World War Two. The major difference (among many) being these new ships had a v-shaped bow to allow for greater speed (20+ knots), versus the blunt bow LSTs of World War II and later. The Harlan County had a light weight of 4,792 long tons (4,868.9 t), but almost doubled in weight to 8,450 long tons (8,585.6 t) at full load.

The ships of the class had the ability to transport 2,000 short tons (1,814.37 t) of cargo or 500 short tons (453.59 t) for beaching on 1,765 square yards (1,475.8 m2) of deckspace. The ships had the capacity to transport twenty-three AAV-7A1 armored personnel carriers (APCs), or twenty-nine M-48 tanks (used by the Marines), or forty-one 2½ ton cargo trucks (deuce and a halfs) on the tank deck, which had turntables both fore and aft. They could also carry twenty-nine 2½ ton trucks on the upper deck. The Harlan County normally carried two LCVPs on the port Welin davit, and another LCVP and an LCPL (Captain's Gig) on the starboard davit.

The Harlan County carried 900,000 US gallons (3,400,000 L) of marine diesel, 141,600 US gallons (536,000 L) of vehicle fuel, 20,000 US gallons (76,000 L) of gasoline (mogas), and 10,000 US gallons (38,000 L) of JP-5 aviation fuel. The ship also had below deck berthing in the forward hull for a small battalion of Marine ground forces. A bow thruster and stern anchor was used for ship positioning during bow ramp operations, stern gate launchings, and beaching evolutions. The bow ramp itself was 112 feet (34.14 m) long, and weighs 20 short tons (18.14 t) constructed from aluminum. The ramp was rated at 75 short tons (68.04 t) capacity (an M1A1 Tank weighs 70 short tons (63.50 t)) and when deployed, the aft end fits onto a "king post", upon which it could swivel to a limited degree. The bow ramp (when deployed) is supported by a set of derrick arms, giving the ship its distinctive cross section. Aft of the bow ramp (when extended) is a vehicle ramp (known as the "'tween decks ramp") which allows vehicles to proceed directly from the tank deck to the bow ramp, thence to the deployment site, beach or causeway. When the bow ramp is retracted, the 'tween decks ramp is located directly below and is raised and sealed to ensure water tight integrity between the main deck and the tank deck. A forward turntable facilitates maneuvering of various Marine and Seabee vehicles. At the aft end of the tank deck, another turntable likewise facilitates maneuvering of these vehicles and allows AAV (Marine "LVTs"-Tracked Landing Vehicles) to launch directly into the water via the sterngate, which opens directly to the sea during "launching operations". Four causeway sections could be mounted aft (two on the port side and two on the starboard) of the superstructure directly adjacent the flight deck; these were linked together to form a pontoon bridge which allowed offloading of vehicles when the ship was not to beach herself. These causeway sections were also lashed to the stern gate as needed; "steel beach" was a popular recreational activity for the crew while she was deployed. Causeway sections were married to the stern gate and the crew could enjoy barbecue, beer, and an occasional swim call. For helicopter operations, the ship had a 250 square yards (209.0 m2) landing pad aft of the smoke-stacks and twin 10 short tons (9.07 t) capacity cargo winches. A power-driven cargo hatch leads from the flight deck to the tank deck.
APRIL 8, 1972
TO
APRIL 14, 1995
DEDICATED TO THE SHIP AND SAILORS WHO SERVED ABOARD FROM APRIL 1972 TO APRIL 1995
USS HARLAN COUNTY (LST 1196) was the first ship of the fleet to be named in honor of Harlan County, Kentucky. The name also honors the county seat of Harlan. The tank landing ship was built by the National Steel and Shibuilding Company, San Diego, California. Her keel was laid 7 November 1970 and was launched 24 July 1971, under the sponsorship of Mrs. Richard G. Capen Jr. wife of the assistant to the Secretary of Defense for legislative Affairs. The ship was commissioned United States Ship HARLAN COUNTY on April 8, 1972.

Harlan County (LST 1196) was a Newport-Class Tank Landing ship being the eighteenth of the twenty ships of the class, and was a member of Amphibious Squadron Six. Besides a crew of 208 and 12 officers, she could accomadate 377 troops and 20 troop officers. She was capable of transporting about 1500 tons of tanks, trucks, amphibious vehicles, and general cargo.

HARLAN COUNTY and ships of her type afforded the swiftest and most efficient means of landing tanks, artillery and assault vehicles under combat conditions. The normal method of unloading was over the ramp to a pontoon causeway, then to the beach. A stern ramp was also provided for launching amphibian vehicles in deep water while underway.
STATS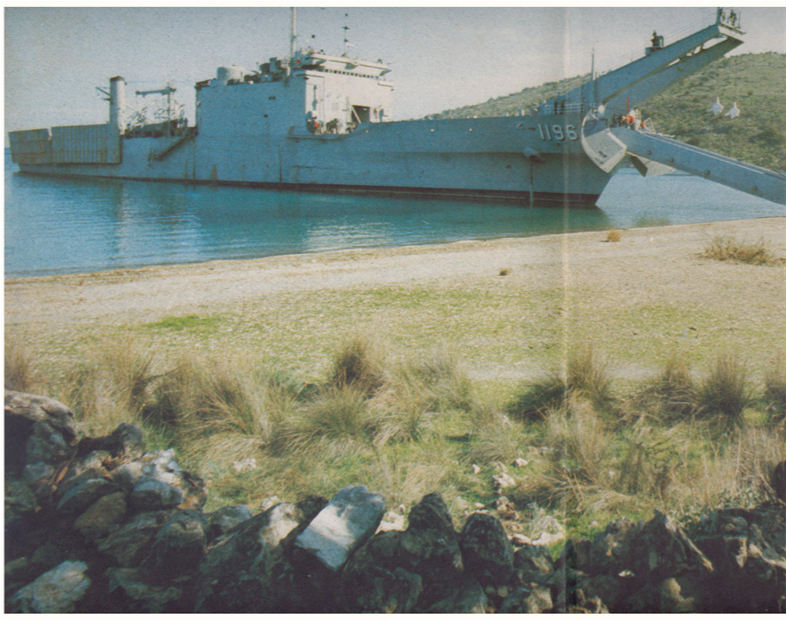 ---
THE FIRST YEARS (1972 TO 1975)
On 23 May 1972, HARLAN COUNTY completed her initial fitting out in Long Beach Naval Shipyard, Long Beach, California and sailed for her homeport of Little Creek, Virginia. During her first voyage, HARLAN COUNTY and her crew members gained the unique experiances of crossing the equator, accompanied with the visit from his excellency Neptunis Rex and his Court, transiting the Panama Canal, and traveling up the Mississippi River to New Orleans, Louisiana. In New Orleans, HARLAN COUNTY delivered three Inshore Patrol Craft (PFC) and five River Patrol Boats (PBR) to the newly formed Coastal River Division Twenty- Two.

On 3 July 1972 HARLAN COUNTY entered her homeport of Little Creek, Virginia for the first time. Her first stay in her homeport ended on 25 July 1972 when HARLAN COUNTY and her crew sailed for their first trans-Atlantic voyage together. Her destination was Kiel, Germany where her cargo of twelve sailboats, to be used by the United States Olympic Team in the sailing competition of the 1972 Summer Olympic Games, were safely delivered. After a brief stop in the Mediterranean sea and the Azores for opprtune lifts HARLAN COUNTY returned to her homeport tp prepare for shakedown training.

HARLAN COUNTY arrived in Guantanamo Bay, Cuba on October 1, 1972 ready to commence her shakedown training. Four weeks later, after a record setting performance in Guantanomo Bay, HARLAN COUNTY and her crew returned to her homeport, having attained a high state of readiness. Training continued for HARLAN COUNTY as she under went three weeks of Amphibious Operational Training in the waters of Chesapeake Bay and Obnslow Bay, North Carolina. Once again outstanding performance was cited for HARLAN COUNTY and her crew.

On February 2, 1973 HARLAN COUNTY entered the Philadelphia Naval Shipyard for her final step to complete operation readiness Post Shakedown Availability. She completed her PSA on 8 March 1973 and reported as a fully operational ready unit of the fleet.

After three months of preparation, on 7 June 1973 HARLAN COUNTY departed on her first deployment. As a unit of Amphibious Squadron Six with units of Marine Battalion Landing team 2/6 embarked, HARLAN COUNTY deployed for duty with the sixth Fleet in the Mediterranean Sea. HARLAN COUNTY conducted Amphibious landings in Carboneras, Spain; Timbakion, Crete; Porto Scudo, Sardinia; Saros Bay, Turkey; and Gythion, Greece. She took part in the NATO exercise Deep Furrow 73 and was on station during the 1973 Middle East Contingency operation.

Following HARLAN COUNTY'S return to CONUS, she spent several months exercising with units of the Atlantic Fleet. Exercises included midshipmen training cruises to Halifax, Nova Scotia and Nassau, Bahamas. HARLAN COUNTY also participated in Exercise Solid Shield-74.

On February 25, 1975 HARLAN COUNTY departed on her second Mediterranean deployment. Under the command of Commander, Amphibious Squadron Six with units of Marine Battalion Landing Team 3/8 embarked, HARLAN COUNTY reported for duty on 8 March with the United States Sixth Fleet. HARLAN COUNTY conducted amphibious landings in Carboneras, Spain; Brindisi, Italy; and Porto Scuda, Sardinia. She took part in the NATO Exercise Dawn Patrol-75. HARLAN COUNTY returned to homeport in Little Creek, Virginia on 2 August 1975. On 22 September HARLAN COUNTY sailed for Onslow Beach, North Carolina to conduct five days of amphibious training and indoctrination for 250 Marine Corp Second Lieutenants from Basic School, Quantico, Virginia. In August 1975 HARLAN COUNTY was designated to represent the United States Navy at the Navy's bicentennial celebrations in Washington, D.C. during the period of 9 October thru 16 October 1975.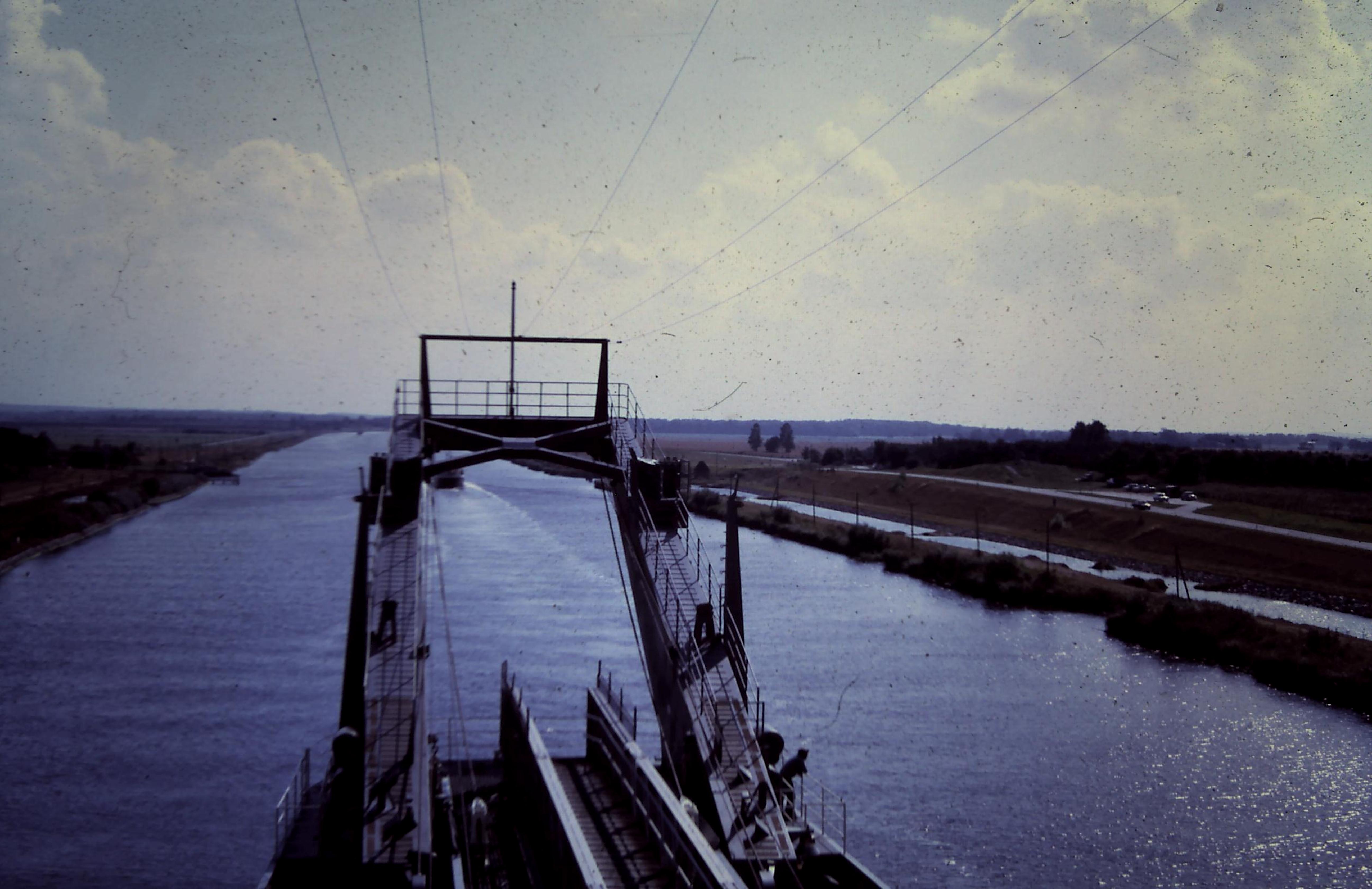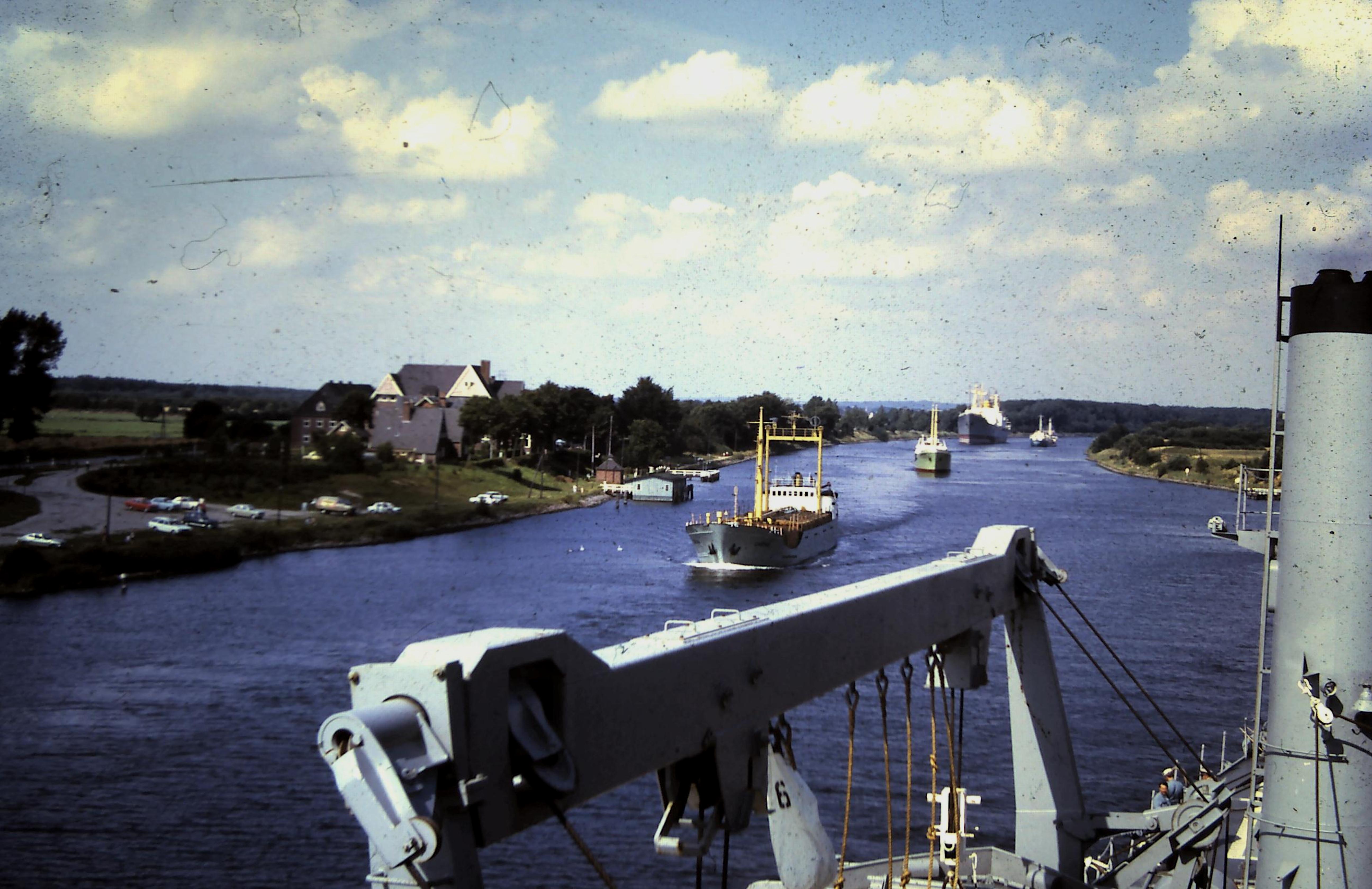 HARLAN COUNTY traversing the Kiel Canal, Kiel, Germany July 1972.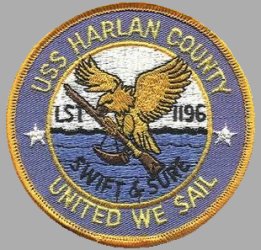 THE SHIP'S INSIGNIA
The words of Paul Spahos in the poem "Harlan County" (see below) inspired the design of the ship's insignia. This insignia portrays a two-fold meaning, that of the ship's mission and that of its namesake, Harlan County, Kentucky.

The blue and gold of the plaque's border are taken from the Kentucky state seal and encircle the central theme as the Navy bounds the sea. The eagle is the Golden Eagle of North America which inhabits the rugged terrain of the Black Mountains of Harlan County, Kentucky.

Poised in the landing attitude and clutching the musket and powder horn, he symbolizes the very mission of the LST-to land marines and their combat equipment upon an enemy's shore. The united effort of the Navy-Marine Corps team is further emphasized by the motto "Swift and Sure---United We Sail" denoting the swiftness and sureness with which the modern LST fulfills her mission. That portion of our motto "United We Sail" is derived from the Kentucky state motto "United We Stand---Divided We Fall".

The frontier long rifle and powder horn, precursors of the combat marines' primary weapon, are steeped in the tradition of the frontier woodsman who first crossed the Cumberland Mountains into the Kentucky wilderness.
HARLAN COUNTY
I am the vanishing eagle
that gave its heart that my people might have freedom
I am the pioneer and the indian
that blazed a trail so others might follow
I am mountains of coal
that produced electricity so children could learn to read
I am the Cumberland River
and I replenish my holllows so the corn will grow.
My children have left home
and made a place for themselves in the world
My memories are many
and my soul runs deep in many secret places
My people are a gentle kind
who love and share with all who come
My hope is in the future
when all men shall recognize my wisdom and goodness.
I am Harlan County
the best is yet to be.

---Paul Spahos
This website provides names of all those who wish to list themselves as having served on the USS HARLAN COUNTY LST 1196.
The official USS HARLAN COUNTY facebook site. Connect with old navy buddies.
Our own Plank Owner Steven Loomis has outlined his story of his years on the USS Harlan County on the web site togetherweserved.com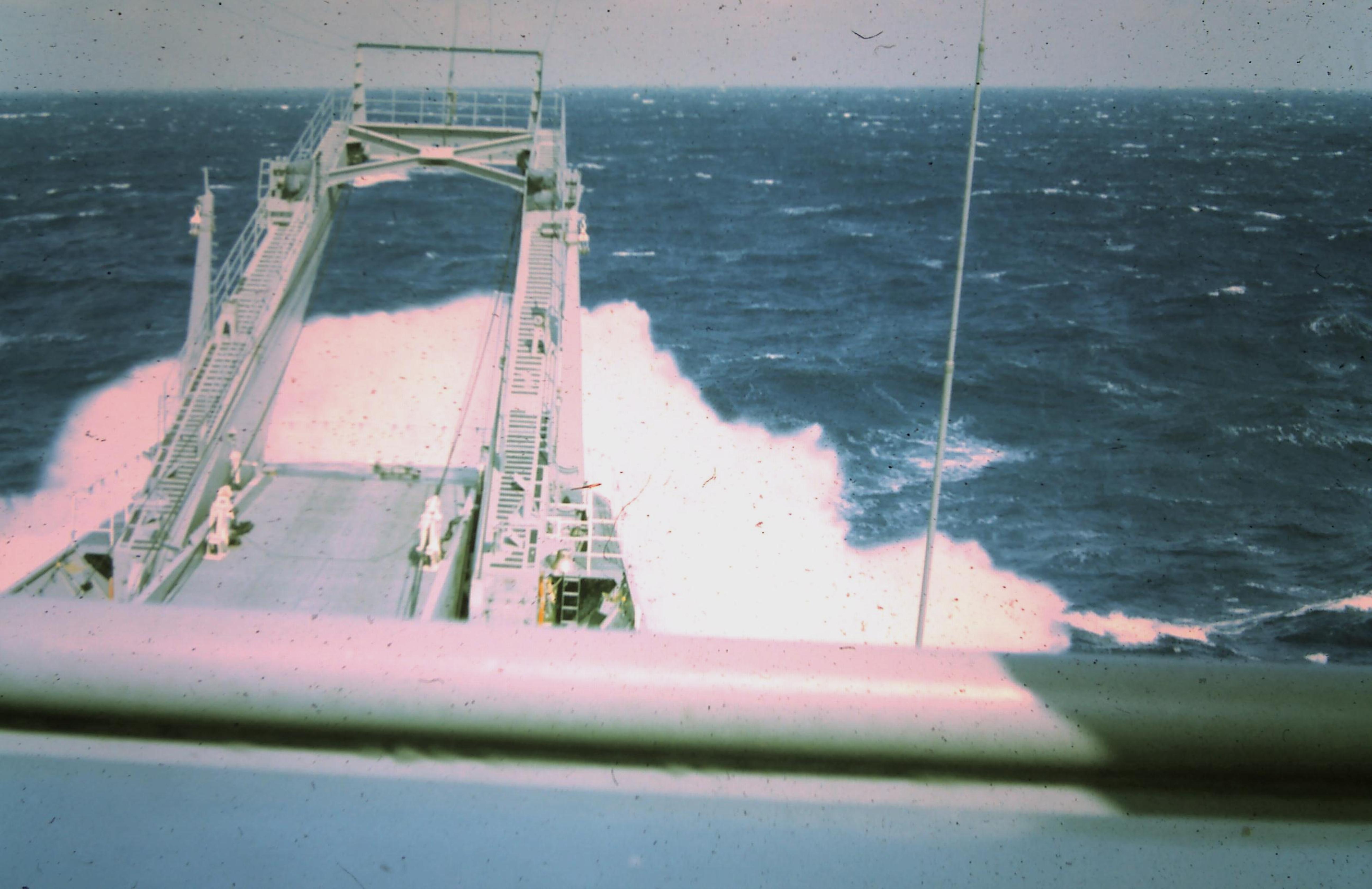 ROUGH SEAS IN THE ATLANTIC 1973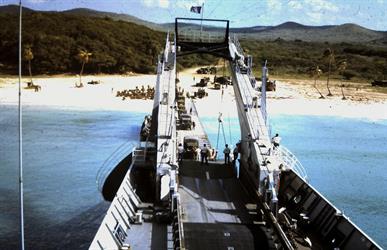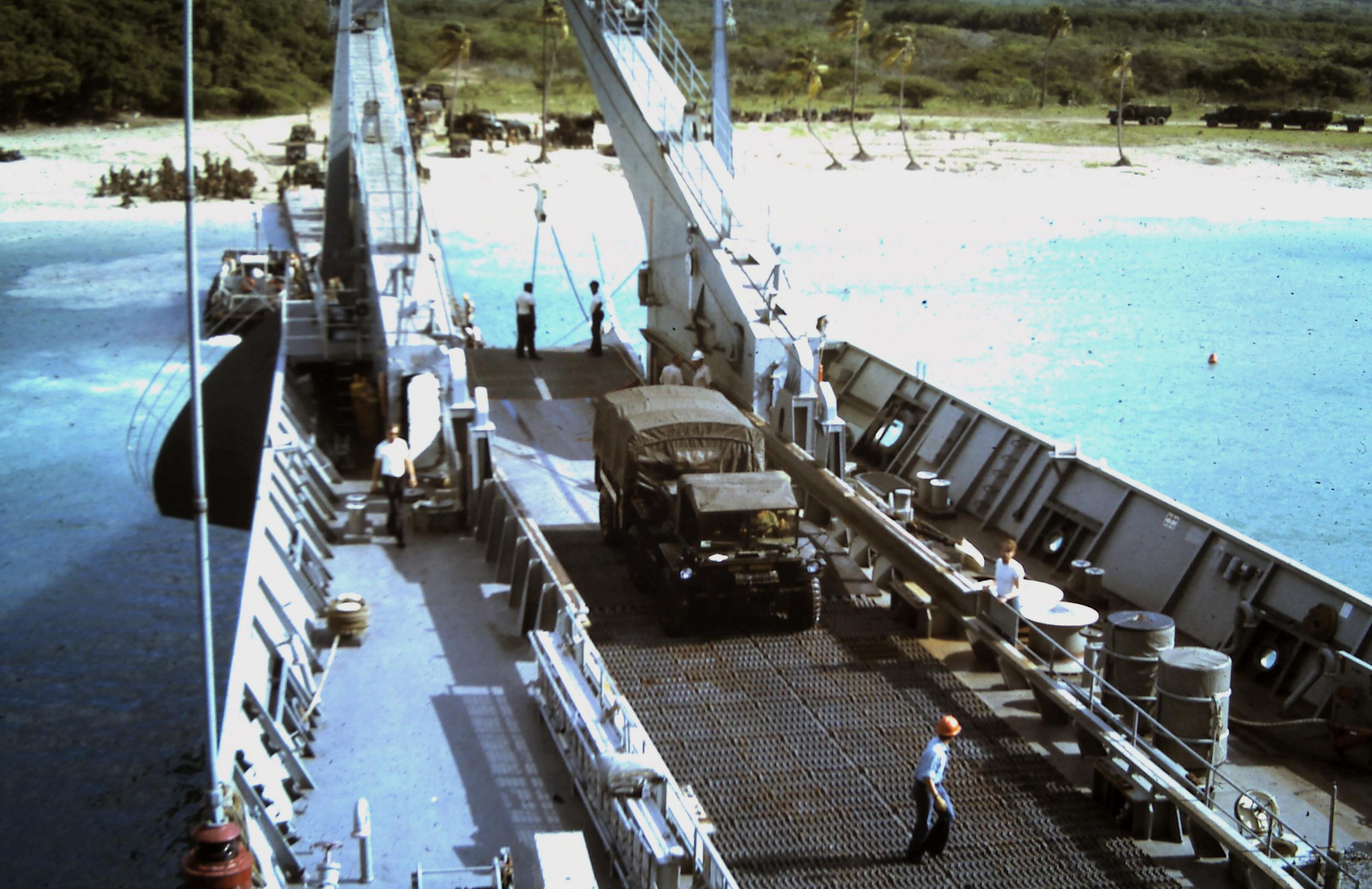 LOADING MARINES IN THE AZORES 1973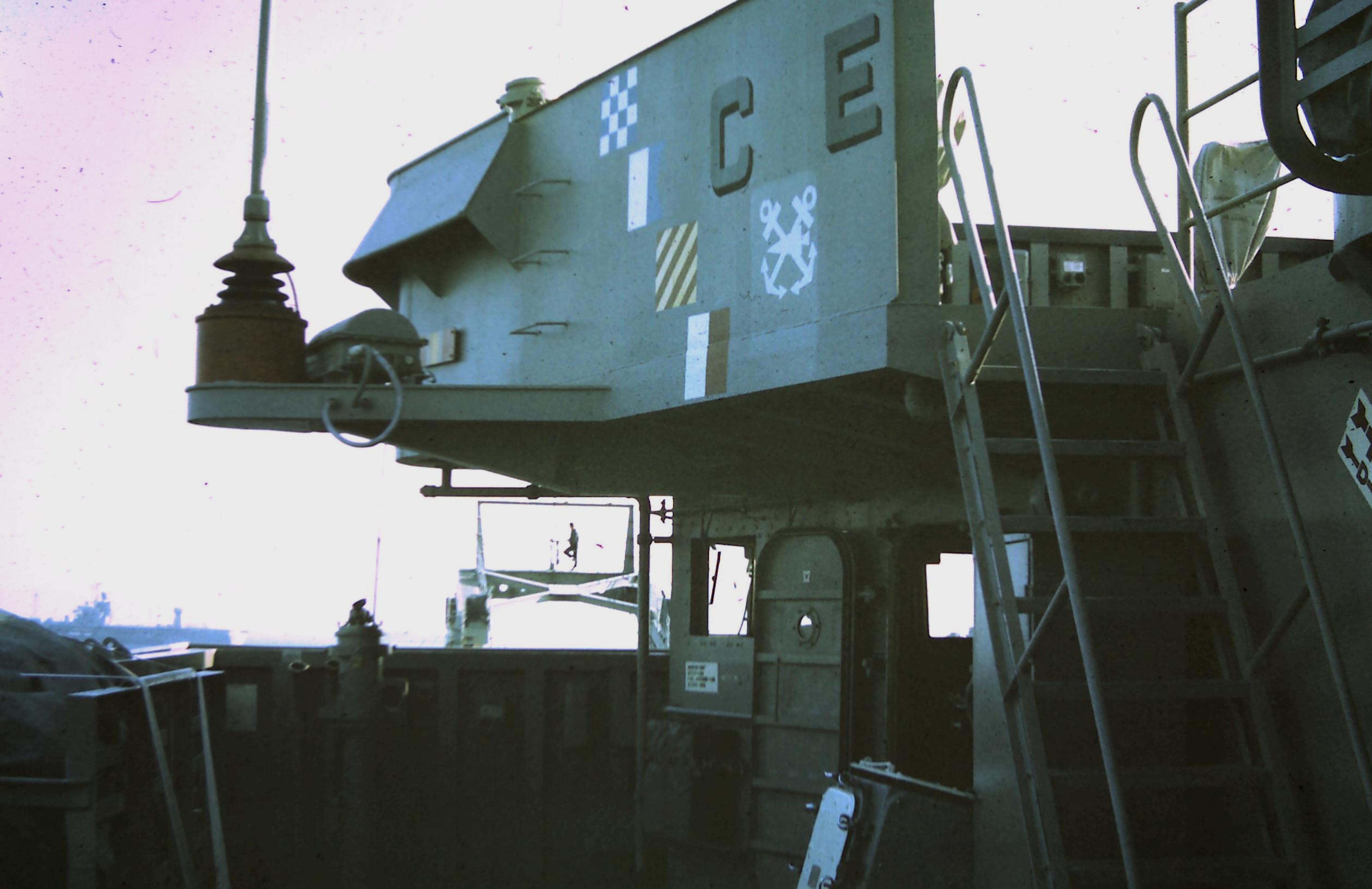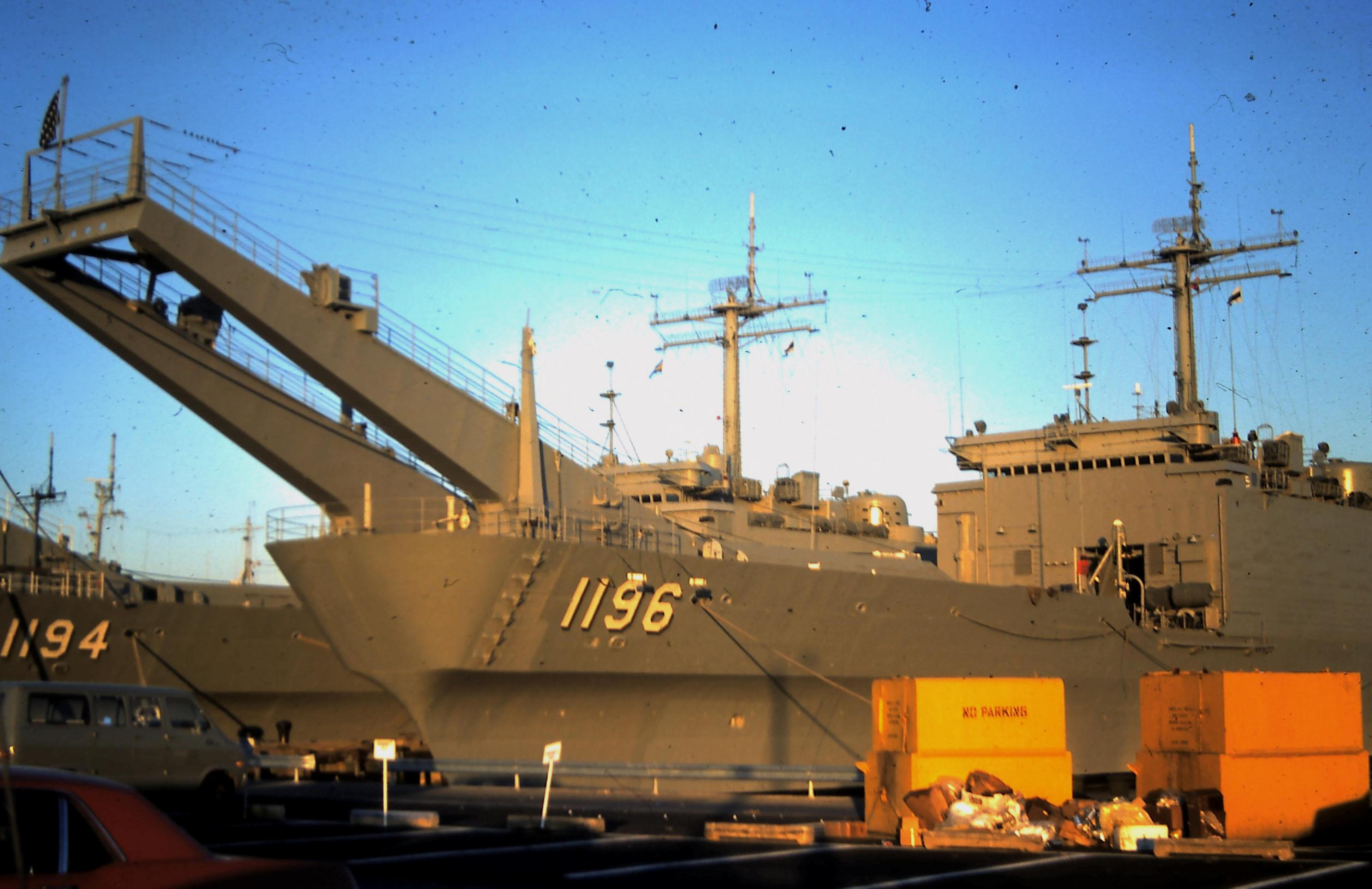 HARLAN COUNTY'S FIRST AWARDS 1972
HARLAN COUNTY AT HOME PORT LITTLE CREEK, VA. 1973



UPCOMING RE-UNIONS FOR THE USS HARLAN COUNTY. CLICK THE LINK FOR DETAILS


NAVAL HISTORY AND HERITAGE COMMAND
LINKS TO OUR FAVORITE NAVY SITES
VISITORS
FROM 32nd ST, SAN DIEGO TO LITTLE CREEK, VIRGINIA
WRITTEN BY IC3 STEVEN D LOOMIS--PLANK OWNER
Like many of you, I went through Pre-Commission School in Norfolk as an original crew member for the Harlan County. My orders for the ship were upon completion of
IC-A school in San Diego just as the year ended, in December, 1971. Prior to that I'd spent a year in-country Viet-Nam with the U.S. Naval Advisory Group in the
Vietnamese Naval Shipyard in Saigon. At the end of my tour I put in a chit for IC-A school and our units Yeoman changed my designation from Seaman to Fireman
(engineering) so I could attend the school.
I then attended school in San Diego and spent the rest of my time in the service as an "IC-men". As I had hoped, I was in
an electronics field, although we were jokingly called "Low Voltage Electricians" by many of our shipmates. Upon leaving IC School I was finally going to sea. I'd been
in the Navy for two and a half years and I'd never been to sea, actually, I'd never been assigned to a ship until I got orders to the "Darlin' Harlan".
I asked the Personnel Office at NTC San Diego, "Where is the ship located?" and to my surprise they said "It's at 32nd Street, it's still being built". So, I put on my
dress blues and got a cab to the National Steel and Shipbuilding Company and walked through their main gate. Some kind of foreman asked me what I was there for
and I told him I'd come to see the Harlan County, "I've got orders to her". He gave me a funny look and said, "Come on, come aboard" and he took me on a brief, but
memorable, top deck tour of the ship. In the meantime I had orders to Norfolk for Pre-commissioning and Damage Control School. It would be more than three
months before I saw the ship again and this time it was in Long Beach for the Commissioning Ceremony, 8 April 1972. From there we degaussed the ship and filled
her with diesel fuel at San Pedro, then headed to Sea. Our first stop was Acapulco Bay, Mexico. We then headed south and crossed the equator at 84°W
*
, off the
coast of Ecuador (Spanish for EQUATOR), and then north to enter the Panama Canal. From there we headed north through the Caribbean, the Gulf of Mexico, and up
the Mississippi River to the port of New Orleans. Our next stop was Little Creek, our homeport. I was now a Plank Owner (ship's original crew) and a Shellback (for
crossing the equator) on board the USS Harlan County, LST-1196, homeport Navy Amphibious Base Little Creek, VA. Next, we loaded cargo, the US Olympic Yachts, for
what I consider the ship's maiden voyage; a journey across the Atlantic and North Sea to the Kiel Canal and onto Kiel Germany for the 1972 Olympic Games.
Additional highlights included passing through the Strait of Gibraltar to our next stop, Barcelona, Spain, and then a port of call at the Azores before returning to Little
Creek. Quite a first cruise! With my crossing of the Atlantic, and introduction to the Mediterranean Sea, I felt like I was now, truly "In The Navy".
Like most East Coast ships we made a few trips to the Naval Base at Guantanamo Bay, Cuba (GiTMO), and in June 1973 I was officially rung off the ship, ding-ding:
"Loomis, Plank Owner, Departing" and honorably discharged, after my four year tour of duty. Now a civilian, I then put myself through a technical college on the GI
Bill. But, I also spent time in a couple of US Naval Reserve units later on. There was something about putting that uniform back on. Those of you who have done it
will know what I mean. Over the years in the Reserves I was assigned to three more ships and went back to sea with one that made a return to "GiTMO", one last
*
USS HARLAN COUNTY - TRIVIA. WHY DID WE CROSS THE EQUATOR AT 84°WEST?
In my opinion, there were several reasons. First and foremost, for the crew at least, this turned each of us "Plank Owners" into "Shellbacks". An old and somewhat
infamous tradition and a sailors rite of passage. But, I'd be willing to bet there was another reason. Oddly enough, if you trace the longitude 84°W north, from the
Pacific Ocean -- through Central America, it passes through the western Caribbean Sea and the Gulf of Mexico and right past Harlan County Kentucky, the namesake
of our ship. Also, and I believe this was almost an inside joke... our Skipper, Commander Vernon C. Smith, later Rear Admiral, is from Midland, Michigan. Any of you
guessed it yet? Well it is very nearly smack dab on the mark of... 84°West, (84.2472° W to be exact).
STORIES AND PHOTOS FROM THE CREW MEMBERS OF THE USS HARLAN COUNTY LST 1196